We're halfway through the no-buy-challenge of 6 months (and I started with a bonus month in December)! Except for a wedding dress, I can say that I'm still going strong! Sometimes I have my weak moments (hi gorgeous one-of-a-kind 70's dress, I can't buy you.) But most of the time it brings calmness and it makes me face the fact that I already possess an outrageous amount of clothes. Still, there are days when I really think that I've got nothing to wear. This is ridiculous because I own over 120 pieces of clothes. So it was time to ask the always-stylish Rachel to the rescue!

A few weeks ago, I dived into Rachel's closet to create some new outfits. So now it was her turn to go treasure hunting in my wardrobe, ready to inspire me with some new outfits!
It was so much fun to see Rachel go through my clothes. She immediately selected some pieces that I haven't worn in a long time. Other pieces are some of my favourites, but she combined them in a way that I'd never thought of.
1. Blue & Green
This pinafore is one of my favourite items in my closet: I wear it with sweaters, blouses and shirts. Most of the time I combine it with pastel pink, yellow or red/orange, but Rachel immediately grabbed this shiny blue silk blouse. I never wore these two items together but I really like this colour combination! This second-hand blouse is huge, so it's nice to wear it more fitted like this.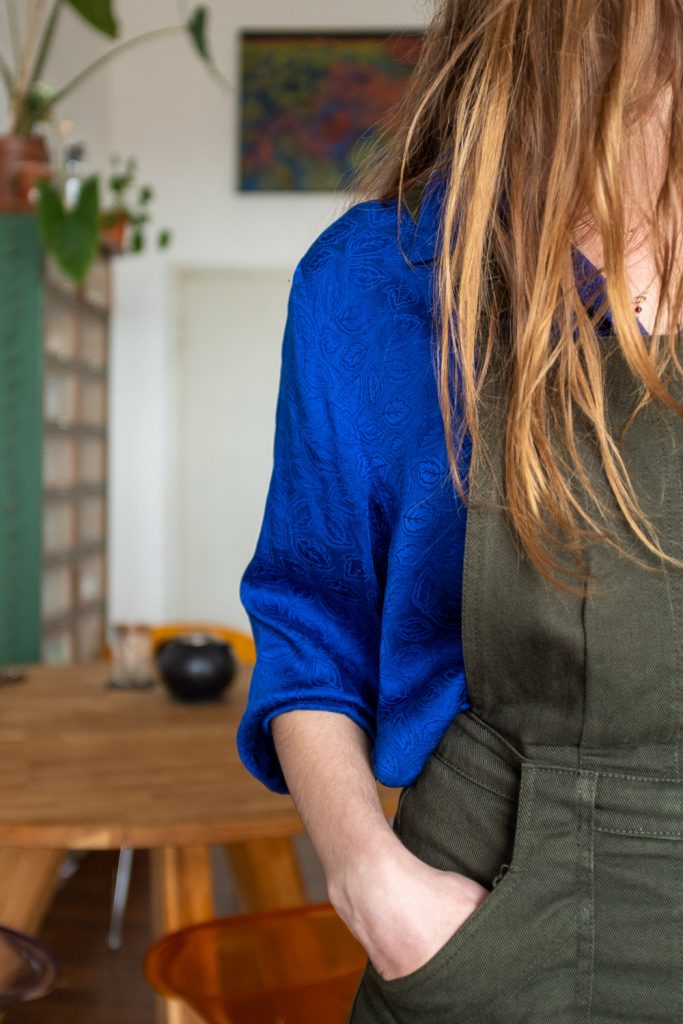 I always thought that this kind of blue didn't suit me that well, although I really love this colour. I always wore it with a contrasting colour like red. So I'm really happy that I found a way to combine it in a different way.
2. Romantic dresses
I love this red dress with small horses on it! It's a real handmade, vintage item (I think from the '50s), and I love the colour and the fit. Because of the 3 quarter sleeves, it's a perfect dress for spring days. Rachel combined it with a yellow shirt underneath it. So this way, it's also wearable on colder days with high boots without losing its charm because a big sweater covers it up.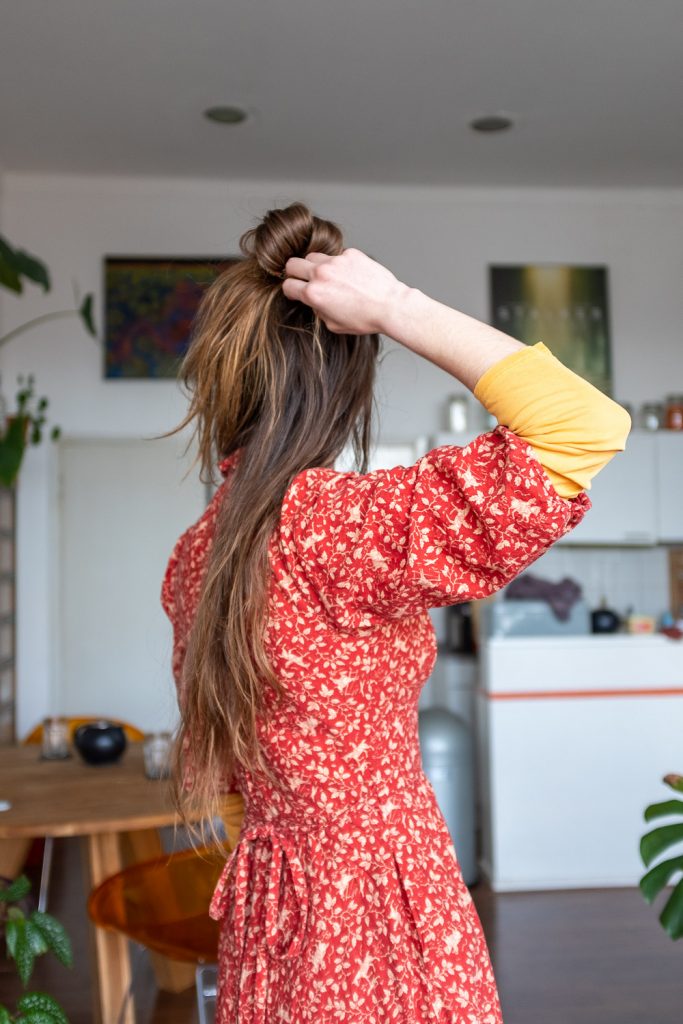 3. Hup holland hup!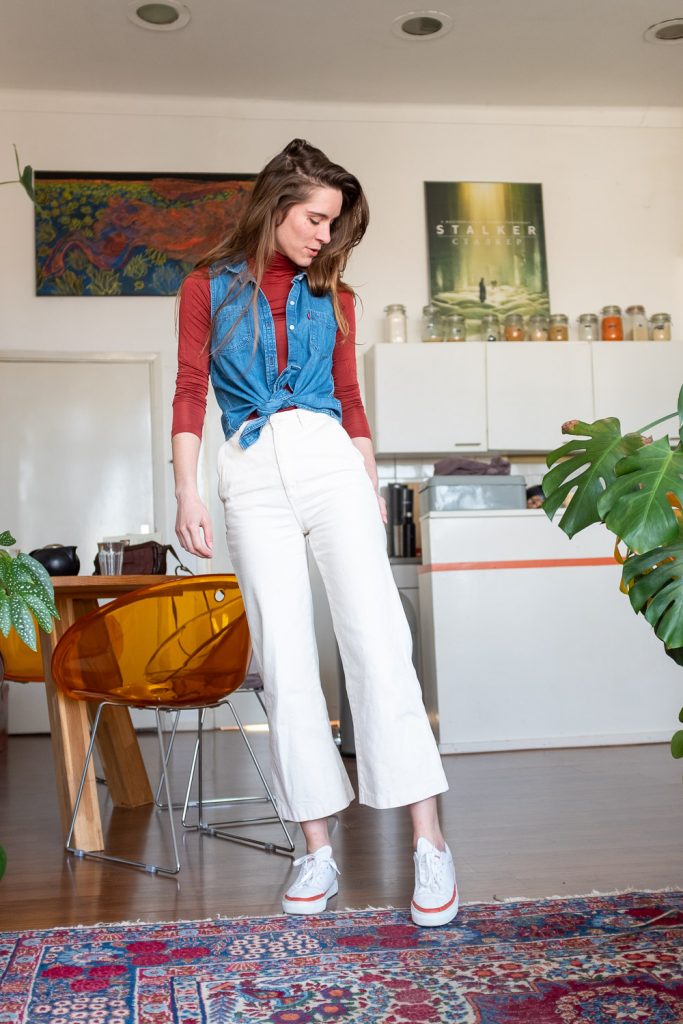 Combining this Levis denim blouse is not that easy. In the summertime, it's one of my favourite items. I wear it with a skirt and button it up. But on colder days? I'm not sure what to do with it, so half of the time, it stays in my closet, waiting till the warmer days. But Rachel found a clever and cool way to combine it with a turtleneck!
I think it's a unique combination, especially with the pants. I like it, but I'm not sure when I should wear it, but once our national football team finally classifies itself again for the World Cup, I could definitely wear it.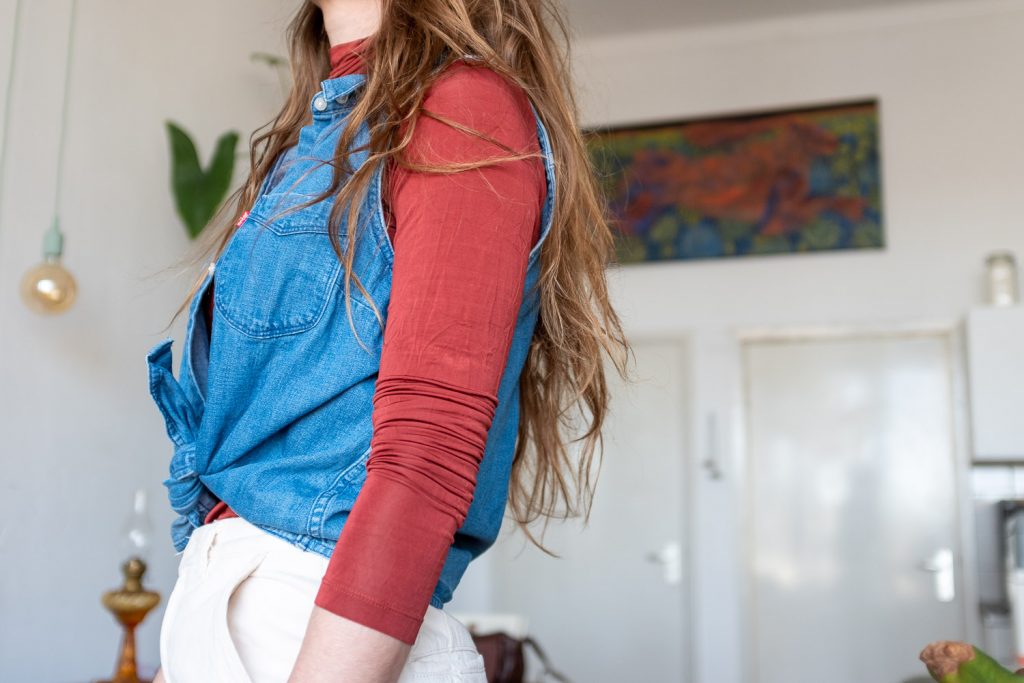 4. Denim chic
This dress is a dark green minimalistic classic. Rachel suggested wearing it with a denim jacket, strangely enough, a combination I never wore before. I love the details: Rolling up the sleeves gives the outfit a more casual look.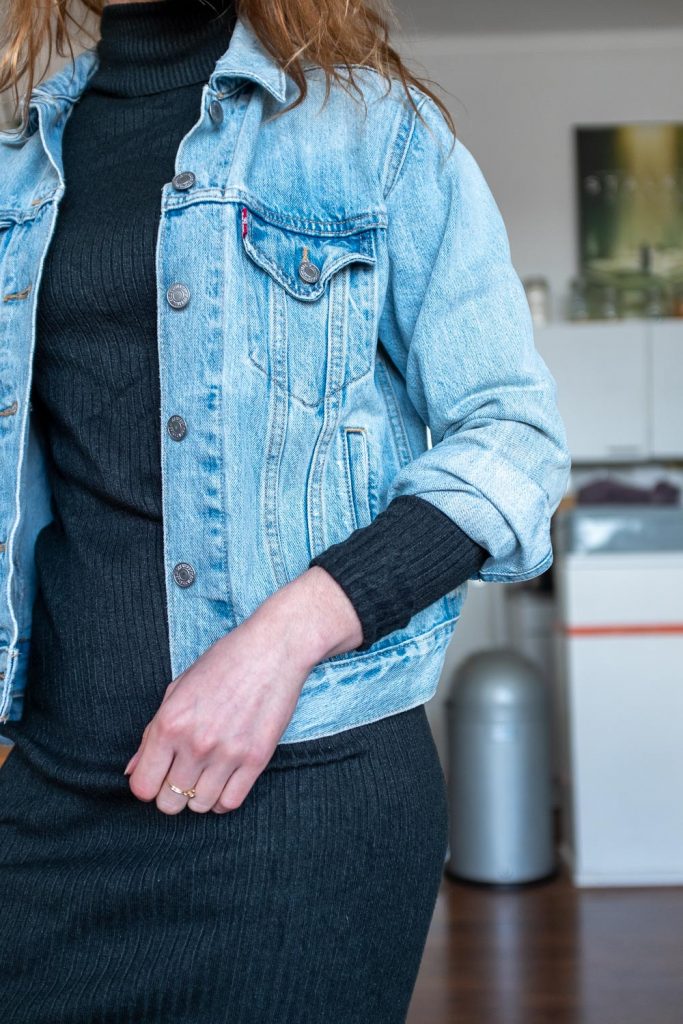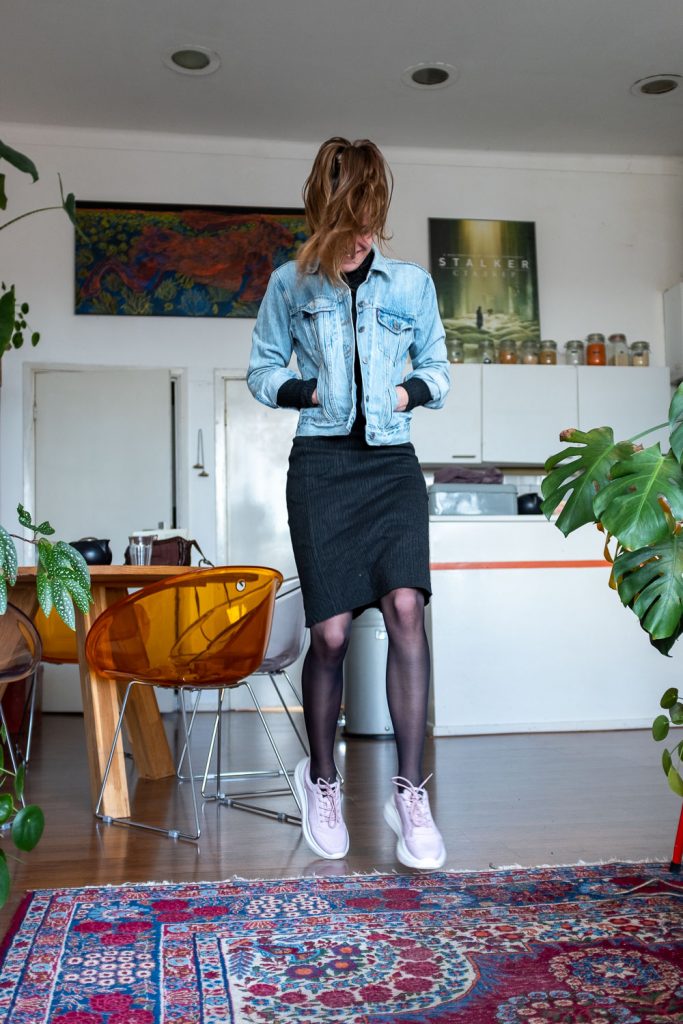 5. Dress up your shorts!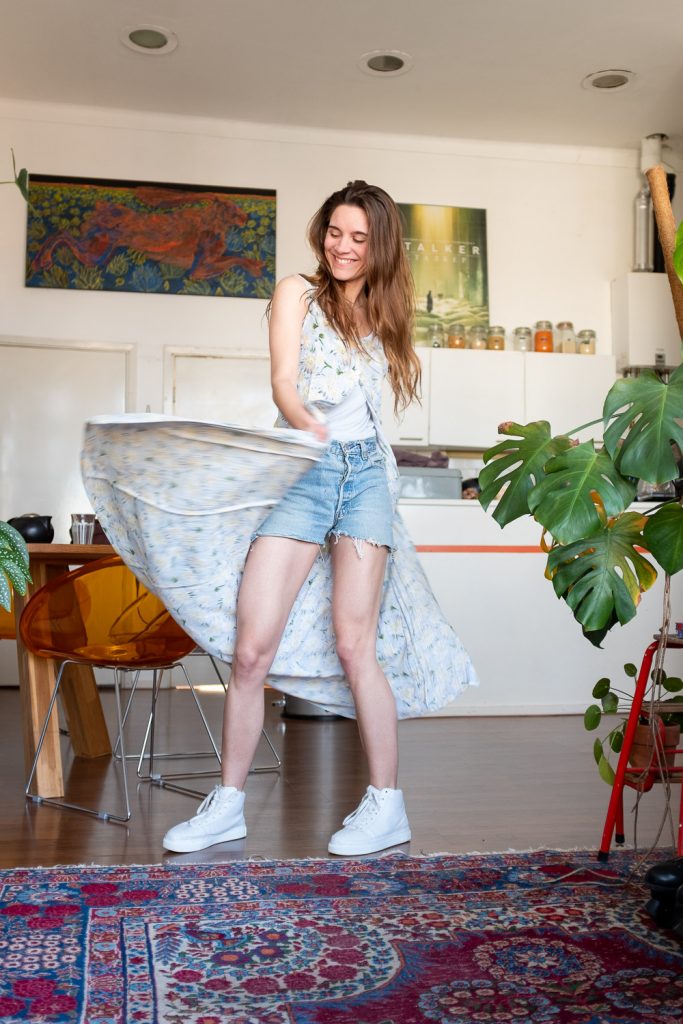 Name two things that you take with you every summer holiday: Denim shorts and a lightweight flowy dress. Rachel combined those two elements together for a summer outfit with a twist. Can't wait to spin around like this.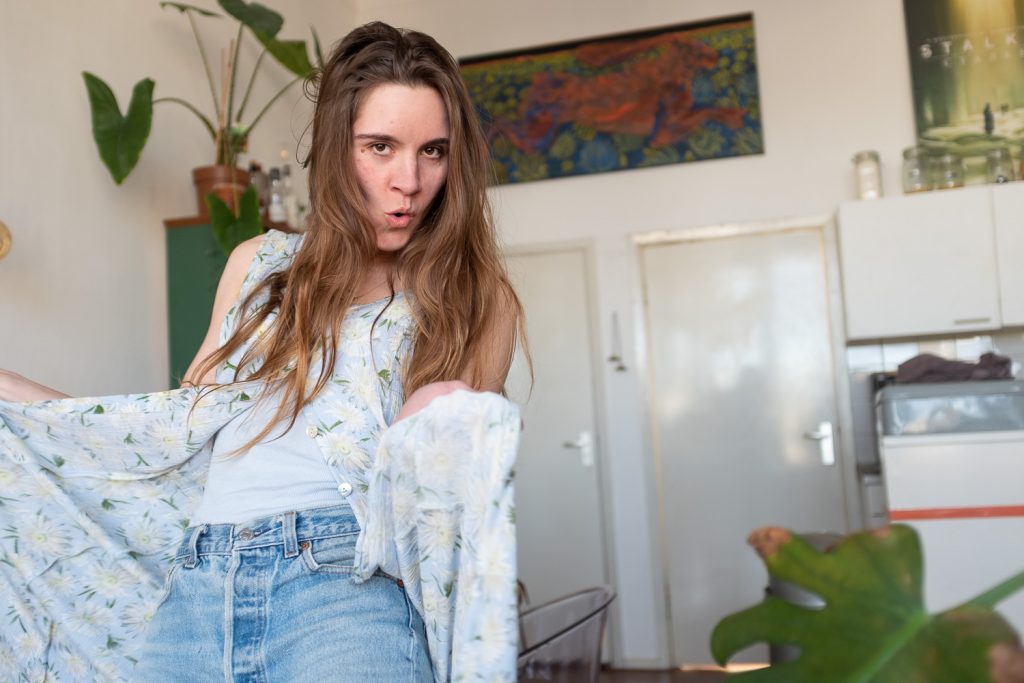 6. Ton-sur-ton
And last but not least, one of my favourites of this session. This yellow outfit! Sometimes combining a new outfit can be easier than you think: Pick a colour and grab all pieces that match that colour and put them on. Voila. If I want to brighten up my day, this is the outfit I should opt for!
This fun afternoon made me look at my wardrobe in a different way. I really love the new combinations Rachel selected! And besides that, it inspired me to keep looking for new combinations. Try different colour combinations and different fabrics together.
It really is a great thing to do together with friends. And right now with the Covid situation and the lockdown going on, there's not much to do. So who of your friends would you like to invite over to create some new outfits out of your wardrobe?