Diamonds supposed to be a girls best friend, but they've never made my heart tick faster. For me it's all about the feeling jewelry brings up. That can be an investment piece, but also a simple preloved pearl necklace. That's why I rather look for handmade and/or preloved pieces than to grab some earrings and necklaces before the cash register at H&M (which I've done as well…).
Another benefit of purchasing existing jewelry, is the small environmental footprint. As resources become more scarce, companies begin to mine deeper, which increases the risk of collapse and inhalation of toxic chemicals. To recover gold, most large-scale mining companies use mercury which is a major pollutant. In short: most bling bling comes with an environmental price. A possible alternative is ethical and/or eco-friendly jewelry.
But this blog is about preloved and vintage jewelry, because I've noticed this doesn't come to mind when my friends want to expand their jewelry collection. They don't enjoy the same familiarity as vintage clothes.
So here is a nice range of online shops and platforms I recommend looking for preloved jewelry:
Vintage jewelry on Instagram
History repeats, is what Pete Philly sang. And so do trends in fashion and jewelry. That's why vintage jewelry is a fast growing business on Instagram. Whether you're looking for investment pieces or purple plastic earrings from the 80's, it's out there!
When purchasing from Instagram-accounts, look for signs of reliability:
Real Instagram shops usually have their speciality. When a shop appears to sell anything and everything, it's probably not trustworthy.
There is real interaction with followers/customers on their page
The Instagramshop has more followers than that it's following. Look out for outrageous numbers of followers that don't match the number of likes and comments.
You can see and click on multiple names with open accounts of people who are wearing their jewelry and have tagged the shop.
There are reviews/testimonials available
Also very important: ask where the seller is based. Shipping costs and import taxes can be a costly operation. So when you're a buyer from the Netherlands, it might not be wise to purchase a necklace from the US.
That said, I recently bought this charming peridot necklace at the Instagram shop Pure Shores. It's a dangerous place to look for unique investments pieces, because I'm practically drooling over every new post.
Another nice account to take a look at, is The Gold Club. The name sounds like a white men privileged Country Club, but it's a Walhalla of carefully curated vintage rings.
If you're used to cheap accessories, these timeless pieces might seem expensive. But they can be your lifetime companions, and even turn into cherished heirlooms for your friends or (grand)children.
Another nice Instagram shop to follow is Ruby Rose Jewellery. And so I can go on and on, because there's so much out there. If you want to broaden your search, just use hashtags like #vintagejewelleryforsale or #vintagenecklace for more inspiration. Or look for vintage shopping tips at magazines like Elle or Vogue, this can save you a trip down the vintage shopping maze at Instagram.
Second hand jewelry at Vinted
When I'm looking for jewelry with a funfactor, Vinted is a great platform to visit. I recently got inspired by this pearl necklace Harry Styles was wearing.
So I simply started looking for 'pearl necklace' at Vinted and I was surprised by the wide range of options that came to surface. I eventually chose this double chained model with antique lock, that costed €13,-.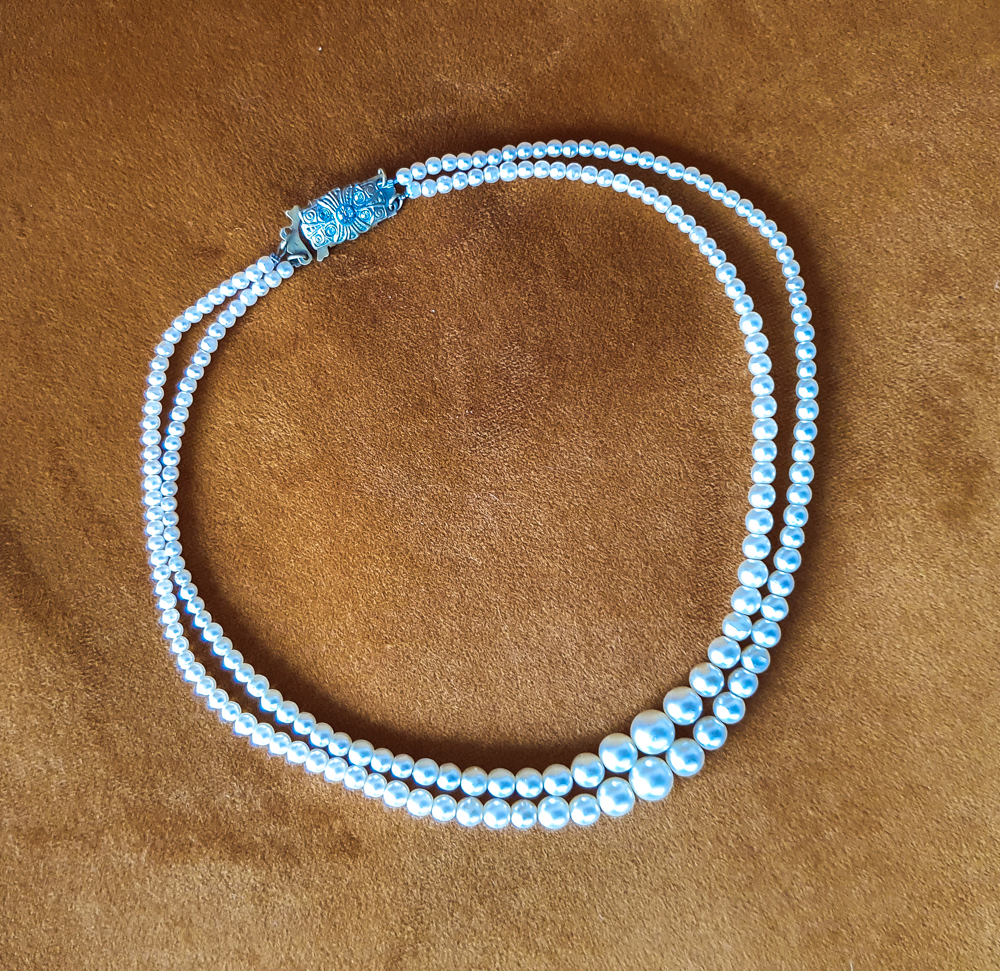 In my search on Vinted I stumbled across the most quirky eighties earrings and gothic necklaces, but also a solid gold coral ring that didn't fit the owner and was being sold for a very decent price.
And look at these joyful yellow earclips. Or what to think of these unique sleeve cuffs?! Seriously, if you're looking for some fun, go to Vinted.
Vintage jewelry Etsy
Etsy is another platform to visit in your hunt for "new" vintage finds to add to your jewelry box. You can narrow down your search very specifically. If you're into rubies and want to find a seller based in England? No problemo.
Be cautious with overprized items though. I saw this gold doublé drop pendant charm at Vinted for €7,- and an almost identical version of it at Etsy that was priced €41,-. I'm not that much of an expert to say what the right pricing is, but I thought it would be worth mentioning.
Vintage jewelry Catawiki
My last tip and latest addiction: Catawiki. Although I've only used it so far to find special lithographies, and my boyfriend to purchase rare whiskeys, it's also an exciting place for antique jewelry.
I call it exciting, because you buy and sell at auction. This opens the possibility to very good deals, but you might also end up spending too much money getting caught up in the bidding process. My advice: set a limit in advance to what a piece is worth to you, including the auction fee and shipping costs.
That said (lecture is over), it's so much fun to end up with the winning bid! It feels like you've really worked for and thought about your purchase, what makes it extra special.
What are your favorite vintage and preloved jewelry shops? Share them with us in the comments!