I won't bother you with elaborate stories about the difficulties of integrating your summer wardrobe in winter and how you should try it anyway, because it's sustainable and it saves you money and closet space. And how you should make shopping in your own closet a habit, especially during these crazy Black Friday Sales.
No. This blog is to the point and will give you exactly what the title promises you. And for this you only have to remember one word: turtle neck.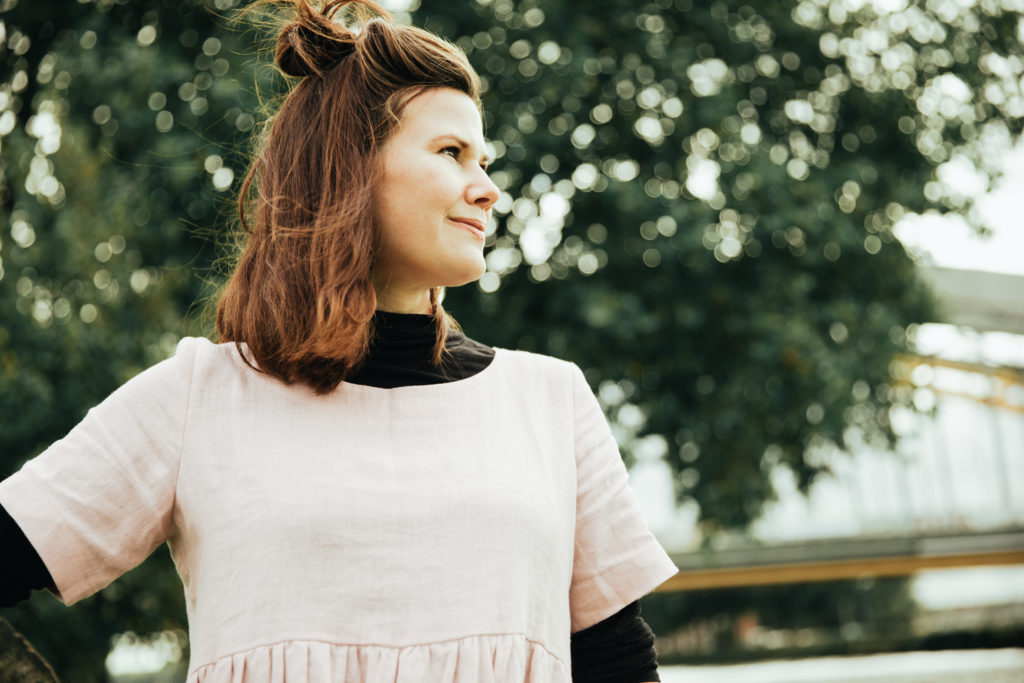 This garment keeps you warm and at the same time doesn't compromise the design of your dress or jumpsuit. Jackets and vests cover up those charming short puffy sleeves that made you buy that dress in the first place. You don't want to hide that! When you wear a turtle neck under your jumpsuit with short sleeve cuffs, you still let the complete design shine!
Now, a few tips to rock this styling solution:

1. Avoid lumpy layering
To avoid lumpy layering, know which kind of turtle neck to combine with which dress or jumpsuit. Wavy wide garments can easily be matched with a sturdier thicker fabric, like this salmon pink turtle neck by Kings of Indigo.
And the other way around: sleek and/or delicate dresses need a second skin under it to build a sophisticated winter look. Body suits are very suitable for this kind of layering.
2. Clash or complement colours
This is not a rule, but a little guideline you can hold on to when you're unsure how to create a balanced look. For example, in this maxi dress below, you can see it contains a pattern with different shades of green and blue. See if you have a turtleneck in a colour that matches one of these shades. My gut tells me olive green would be the best pick, but sadly I don't have a turtle neck in that shade hanging in my closet. I do own a navy blue one, and this turns out nicely too.
Another solution is going the complete opposite way: let it clash! A red dress with a pink turtle neck, why not?! Experiment and you'll be surprised by the dozens of new looks that are waiting for you in your own closet. All you have to do is try them on.
3. Invest in some nice pair of stockings
Take a look at Pinterest for styling winterlooks with summer dresses, and you'll get loads of inspiration. But, you rarely see models wearing tights. I admit the bare legs look really nice, but come on! Try walking around bearlegged with zero degrees. No thank you.
It pays off to invest in some nice thermal stockings in warm colours. Think bordeaux red, dark brown, mustard or olive green. Of course, black is an option too, but not all summer garments go well with it.
Luckily, tights come it all sorts of prints and textures. A nice pair of coloured tights can be the cherry on your winter/fall outfit. An example: woolen camel turtle neck + black pinafore dress + ribbed light brown tights + dark brown boots = fabulous snug look.