Kris is one of our earliest followers. Her cheerful looks on Instagram always make my day, so I was really looking forward to finally meet her in person.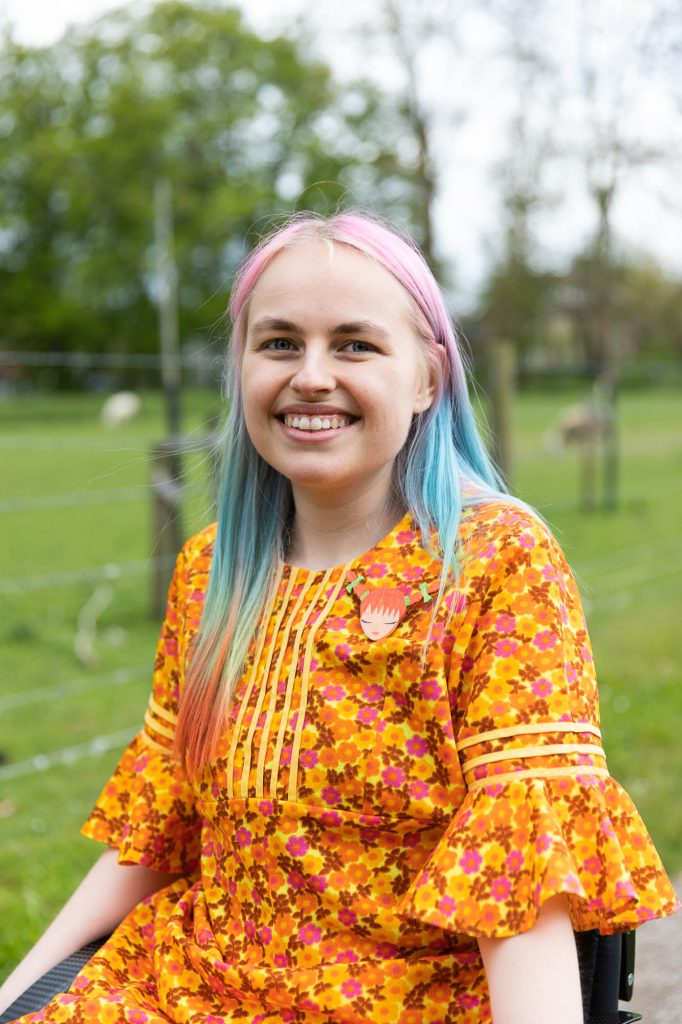 Bye-bye to fast fashion
Where does she find those sparkling outfits? Kris loves thrift stores, and she's crossing around town to visit her favourite second-hand shops. "It all started when I was 15 years old," says Kris. "I can remember that I bought a cheap shirt at C&A and when I got home I felt so sorry for the people who made it. I could not wear it. So the next day, I went back to return it. And I never bought fast fashion again."
Kris is into thrifting clothes because of all the benefits for her and the planet. There are so many clothes available. We don't need to produce more and more clothes. The fact that we are producing clothes in an unethical and unfair way is an important reason for Kris to buy her clothes secondhand. But besides that, it's also cheaper, and you can find unique pieces, so it makes her even more creative.
"Sometimes I run into a garment that is so ugly that I'm sure no one will ever wear it. Then I challenge myself to buy it and to combine it in a way that I will love it and wear it more often."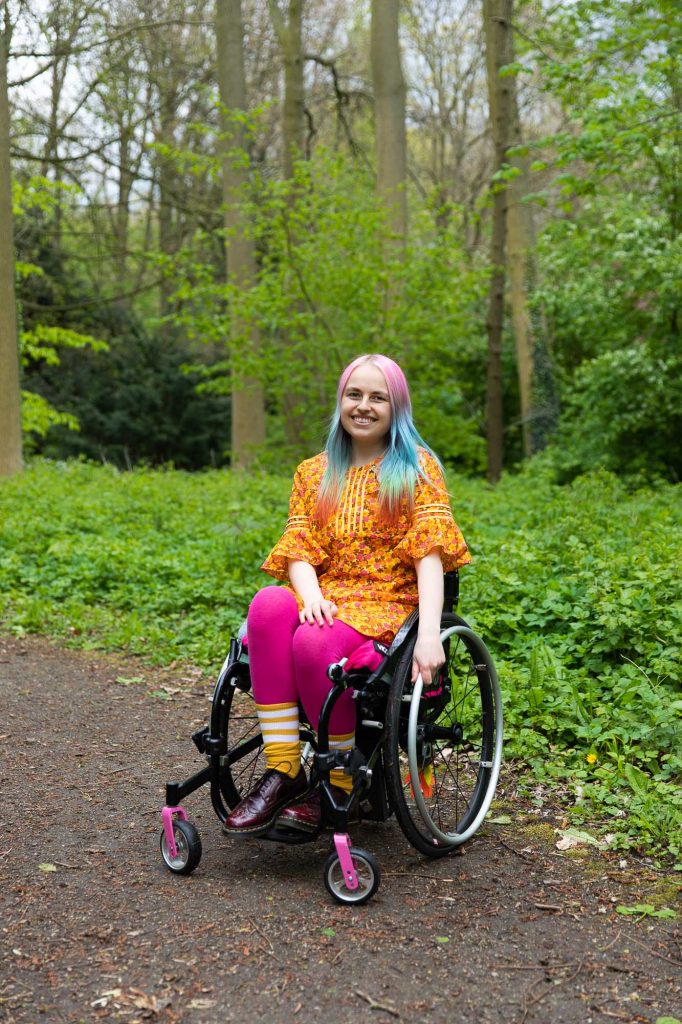 Connecting with people
Kris stands out with her eye-catching outfits. She gets lots of positive reactions from people on the streets. Some people give her a smile, others give her a compliment on her hair. One thing is clear: She's brightening up the streets!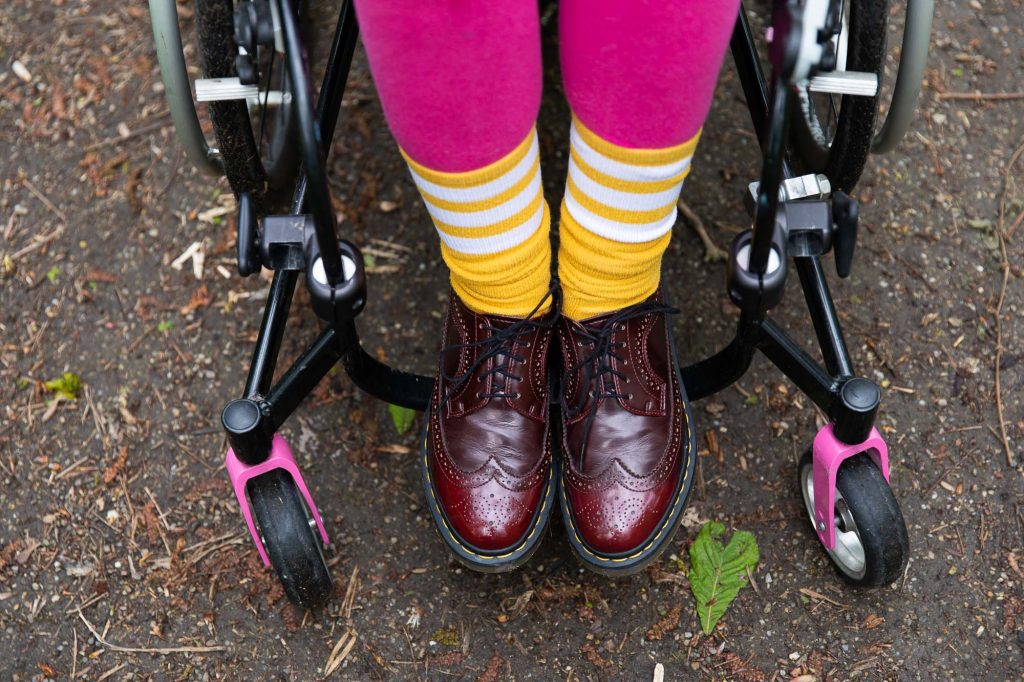 Travelling trough Europe
She started a new initiative: Ruilen voor reizen. An Instagram account where she is swapping stuff for experiences. "I want to travel all by myself through Europe for about a year." She tells us. "Just me, my backpack, electric wheelchair and a train ticket! Doing what makes me happy. Ever since I'm 13 years old, I'm sick, and I'm fighting to live my life. Because of my late diagnosis, I never got the chance to go to school or enjoy my teenage years or get a job. After 10 years of survival, I decided to start living and be happy." People can "buy" the items on her Instagram page, and they have to pay the amount of money for a certain experience. She already swapped some clothes for tickets to a museum or to treat herself with ice cream during her journey. She's also swapped an amazing ski suit to be able to see the northern lights.
"Some people asked me if I wanted to join a wheelchair friendly trip, but I want to do it on my own." Says Kris. "I learnt that most of the people are willing to help, so I'm sure that during my journey it will be the same. I can make this journey independently. Sometimes I have to ask people if they can help me getting on the train, but most of the time those moments generates nice encounters and beautiful connections."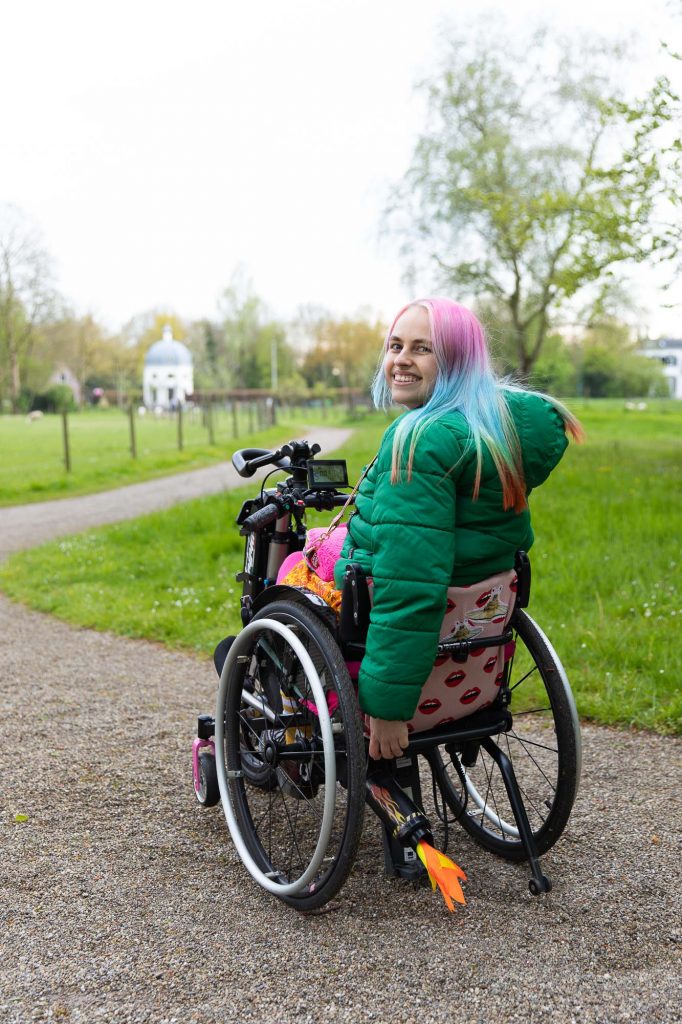 I really love her perspective of life. She has a powerful identity, and it's amazing to see how she's taking control of her own life. No one can stop her. She is a real Wonder Woman!