A new year, a fresh start. Did you write down your New year's resolutions? I never made a resolutions list before, but 2020 made me think about what I want in life and what I want to stand for.
What are your resolutions for this year? Here are some fashion-related tips if you want to challenge yourself:

No Buy Challenge
It's a perfect way to force yourself to make new combinations with the clothes that are already in your wardrobe and discover your clothes' value. 
For our Dutch followers: When Sara Smiles and The Green Girls Club organise the no Buy Challenge for the first six months of 2021. I'm challenging myself as well! 😉 I'm not buying clothes till July. I made one exception: A wedding dress! My boyfriend proposed to me this month, so if I find the perfect second-hand or fair produced wedding dress, I'm allowed to buy it. 
Want to join the challenge? Follow the No Buy Challenge on Instagram.
2. Second Hand or Fair Fashion
If the No Buy Challenge is too much for you, you could also choose only to buy second-hand garments or fair produced items this year. If you're not sure you could maintain it for a whole year, you could also choose to do it for a few months. You will see it's so much fun, so you could always extend the challenge for a longer period. 
3. Repair Your Own Clothes
Go through your wardrobe and collect the clothes that you're not wearing because they are damaged. Bring them to a tailor. Or if you're a sewing hero yourself (like Rachel), you could try to do it yourself.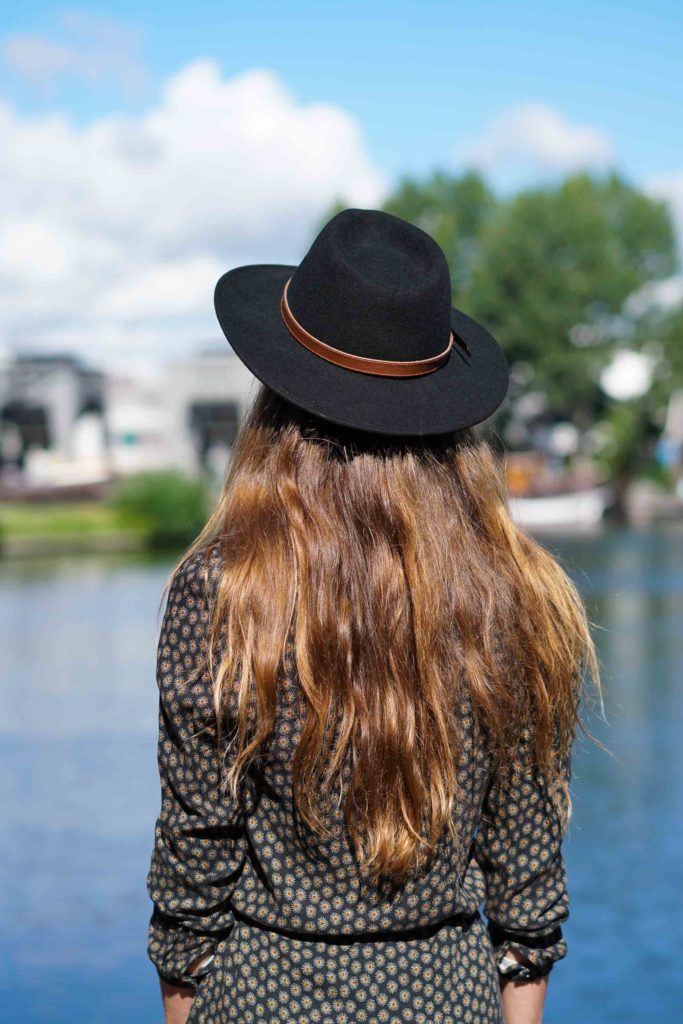 4. Watch documentaries about the impact of the fashion industry
Most of our clothes are produced far from home, so we don't feel connected with the people who are making our clothes. We buy our €5,- T-shirt in a fast-fashion store and we will never know how this is produced and what impact it has had on the people who made it and on the environment. Watching documentaries about this subject is decisive if you want to know why you want to change your behaviour. It sounds a bit woolly, but I'm convinced that we need to feel this connection with the world around us before we can act. If you want to make more sustainable choices in your daily life, you need to know why you're doing it. Otherwise, it's so much easier to give up.
Here are some documentaries worth watching:
The True Cost
This is the documentary about the impact of fashion on our planet and the people, it explores the dark side of fashion and exposes the truth behind it. Choice overload? Start with this one! 😉 
RiverBlue
Following international river conservationist, Mark Angelo, RIVERBLUE spans the globe to infiltrate one of the world's most pollutive industries, fashion. Narrated by clean water supporter Jason Priestley, this groundbreaking documentary examines the destruction of our rivers, its effect on humanity, and the solutions that inspire hope for a sustainable future.
Alex James: Slowing Down Fast Fashion
Alex James, Blur bassist, presents this critical look at our disposable approach to clothing and it's enormous human and environmental cost. I'm a Blur fan, and I didn't watch this movie yet. It's on my watchlist! 😉
Unravel
Unravel follows the Western worlds least wanted clothes, on a journey across Northern India, from sea to industrial interior. They get sent to Panipat, a sleepy town and the only place in the world that wants them, recycling them back into yarn. Reshma is a bright, inquisitive woman working in a textile recycling factory in small time India, who dreams of travelling the vast distances the clothes she handles have. While Reshma shows us how these garments get transformed, she and other women workers reflect on these clothes. Despite limited exposure to western culture, they construct a picture of how the West uses both their imagination and the rumours that travel with the cast-offs.
China Blue
Shot clandestinely at a blue jeans factory in southern China where 17-year-old Jasmine and her friends work around the clock for pennies a day, CHINA BLUE reveals what international retail companies don't want us to see: how the clothes we buy are actually made.
The Next Black 
A documentary that brings together designers, innovators and leaders from around the globe for an open discussion on the concept of clothing. It probes beyond what we are wearing to explore how we produce clothes, how we interact with them and how we care for them. Each person we interviewed has a fresh perspective on the future of the clothing industry – and all of them are using their passions to fuel change.
What are your New Year's Resolutions? And don't forget, you can start again every day. You have not failed if you can't make them all work. You can start all over every day. Try what works for you and write down on your resolutions list: "Don't be too hard on myself" as well. We're only human. 🙂