I get bombarded by ads from ecologically minded brands on Instagram all the time. Apparently I'm the perfect target. It's creepy and convenient at the same time, because this way I discovered Hund Hund.
After they appeared in my timeline for the fiftienth time (talk about perseverance), I was wrought enough to take a look at their website. And it was worthwhile. The style of their clothing easily lends itself to a comparison with Filippa K, Cos, Acne Studios and expensive eco fashion collections. The brand is founded by fashion designer Isabel Kücke and Australian filmmaker Michael Hoole, who are both passionate about honest fashion and dogs.
So when I was in "need" of wide leg suit pants, I decided to put my faith in Hund Hund.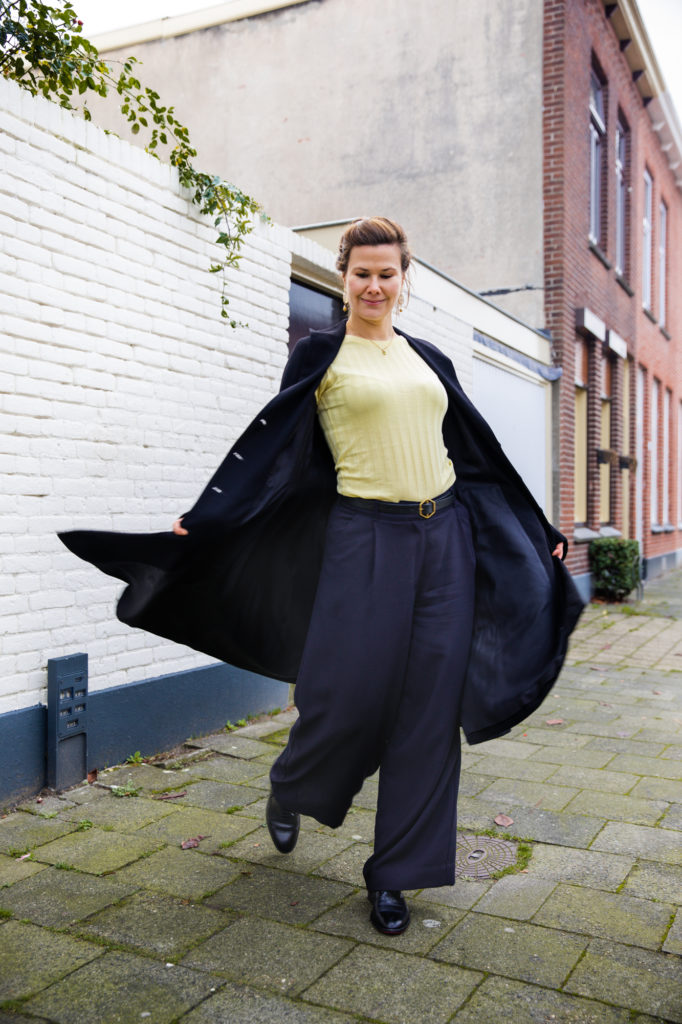 Something worth mentioning before you're going to do the same: Shipping costs are for your own account, just as returning. The founders of Hund Hund feel this creates a more conscious consumer. Free shipping and returning comes with a huge environmental cost. You'll probably check more precisely which size will fit you best and think twice before ordering when you are responsible for shipping and return costs.
Sizing
So I did, by checking their sizeguide and comparing it to my measurements. I ordered Ragna Pants from navy textured wool and a vanilla coloured wide ribbed top in size 38. They fit perfectly. I normally wear S/M so when in doubt, chose a larger size.
Everytime I wear my navy woolen pants I get complimented about the nice quality and fit. It's a timeless piece that lends itself for casual styling, but just as easily transforms you into a lady boss that is going to kill her morning meeting.
The vanilla top is a different story. I love the fit and length, but the fabric is a bit too translucent to my taste. I suspect this is not a matter of quality, but a matter of Berlin design, because after several washings the fabric and colour is still intact.
Berlin comes with it's own set of style rules… Many Berlin girls and women feel bra's are overrated. This immediately explains the see through tops and the visibility of all the nipples at the webshop of Hund Hund. Nothing wrong with this. I'm just not as evolved in the Freikoerperkultur (FKK), Free Body Culture, as Berlin women.
Radical transparancy
What I do love to see transparant, are prices and that's also a trade mark of Hund Hund. They (used to) make a complete price breakdown of production costs available to their customers. I've added 'used to', because at the moment there's a mention on the website that 'radical transparancy' is coming soon. This is what it used to look like:
I've asked Hund Hund via Instagram on what term this break down of prices is returning, and I'm waiting for an answer.
For the record, I believe Hund Hund is doing great in terms of fair and sustainable practices, but I don't want to set you up for a disappointment when visiting their website.
Sustainability
Hund Hunds' aim is to make affordable, ethical, transparent and sustainable fashion, available for everyone. That's why keeping their garments affordable is top of mind.
As well as working with small mills in Europe to develop their own ecologically friendly fabrics, Hund Hund uses deadstock fabric – the leftover fabric from luxury brands. They repurpose beautiful fabrics that might otherwise have been discarded. This enables you to enjoy quality fabrics at a fraction of the price you would've paid through a luxury brand.
What also keeps their prices reasonable, is by selling their clothes exclusively at their own web shop. This avoids any mark-ups by retail shops or other middlemen.
Conclusion
I'm glad Hund Hund has stalked me on Instagram, because I find this a brand worth purchasing, especially their collection of pants. And If anyone is thinking about giving me a Christmas gift, think Bruni Winter Jumpsuit. When it comes to tops though, I will look for other, more covered places. But that's just a matter of taste.